IoT
How IoT is impacting smart living and consumer tech

IoT has been making an impact in how people live their lives over the past years. IoT devices are increasing in people's homes and they perform daily tasks. Nowadays, IoT technology is consuming less power, becoming less expensive, and performing more functions.
IoT devices are in the thousands, and big retail chains carry these products in large amounts. There is a mass adoption of these IoT devices and new products are launching every day.
History of the Automated Home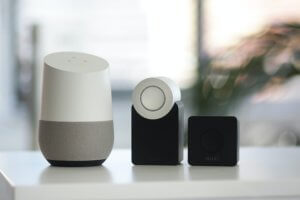 One of the first types of automation in people's homes was the invention of the light bulb, around two centuries ago. Since then, products became battery powered and maintaining homes became easier with more automated IoT devices.
Moreover, term "smart house" was officially adopted in 1984, however, more smart home technologies were implemented around the 2000's. Around that time was also when smart devices became more affordable.
Popular Types of home-connected IoT products

Some of the most high-demand IoT products include connected TVs, security systems, thermostats, smart speaking, lighting and door locks. These smart home technologies are internet-connected and have a central hub that powers the different home devices.
These products make home-life easier by automating tasks such as turning on lights or locking doors. These products are affordable, save time and make for a smart home.
IoT Consumer Products

AI consumer technology is making an impact in the retail and commercial industry. IoT devices such as wearables, voice assistants and Apple's HomePod are all types of technology that make people's lives simpler.
They perform tasks and services that make home life and people's daily lives less time consuming. These devices could last many years and are often inexpensive. They require connectivity such as Bluetooth, WiFi, or Zigbee and as time passes, may need routine upgrades or maintenance.
SDSol consumer tech projects
Some examples of tech projects by SDSol that simplify people's lives are PADL and MyPark. These mobile apps utilize the power of technology to add value and simplify tasks for users.
PADL allows you to rent a paddleboard from the palm of your hand with your mobile smartphone. A map shows all the available locations. To unlock a paddleboard, users select the one they want and follow the step-by-step prompts on the screen.
MyPark empowers app users by allowing them to reserve and park in spaces closest to their destination. MyPark combines its unique and now patented robotic parking device with a proprietary, user friendly reservation and payment app for parking in malls, private and public garages, and property management companies.
Stop by for a consultation
At SDSol Technologies, we deliver high-performance and user friendly solutions to customers who want to launch their tech project. At our free consultation, we will see how we can design and develop your project and create a smart IoT solution from it. Our goal is to provide value and efficiency to your business, and create a product that is sleek, functional and engaging.
---
Follow us on our social media platforms
Share blog on social media platforms