Custom Business Platform Software
Web, iOS & Android Apps: For internal staff and consumer clients


Corporate Caterers
App solutions fueling nation-wide expansion of over 30 franchises: custom server application, customer mobile app, a robust kitchen & call center staff app, and a driver fleet mobile app.
Corporate caterers is one of the largest catering franchises in the country. They came to SDSol and requested that SDSol Technologies make their technology more user friendly, mobile oriented, and more customizable for their many franchise affiliates. Within the first year, SDSol implemented a robust app for their kitchen & call center staff, a mobile app for their customers and another for their drivers, as well as a new custom enterprise application. The server app development included multi-tenant architecture so each franchise affiliate was kept separate from each other. Each franchise affiliate has their own menus, prices, customers, etc.
Specifically, these apps automate and simplify the operations of the business. Customers can easily browse the menu and order their favorite food right from their mobile phone, the kitchen immediately gets the order with all of the relevant details recorded and backed up, drivers receive ready lists of items needed for their orders, order pick-up & delivery is tracked and recorded as well as customer satisfaction and order history. These apps enable real-time transactions, track orders, and fulfillment. Additionally, app data interfaces with the Corporate Caterer's accounting software providing a seamless and efficient business system.


App Development


UI/UX Design

Software Development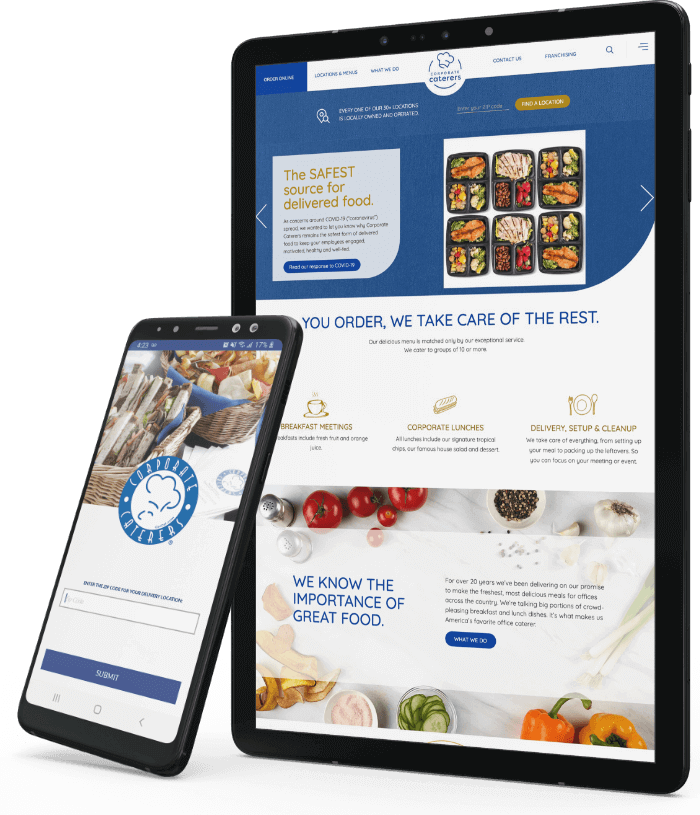 Take a step forward
and send us a message today.
Or take a leap forward and drop by.
Our primary offices are located in Miami Florida on Brickell Ave. Often called "Wall Street South," Brickell is considered to be the heart of downtown Miami's financial & central business district.
Come by, have a "cafecito", and let's talk about how we can help transform your vision into a reality for your business.
Main Office:


1200 Brickell Ave, Suite 1260
Miami, FL 33131